I've been wanting to buy one of those commercial tumbling compost bins for a long time now, but they cost over $300 bought new. You'd have to make truckloads of compost for that price to be worthwhile! Time for some miserly cunning.
When buying bales of lucerne from the feed store at Albion Park Rail, I noticed they had a few large PVC drums lying around. I asked if they were for sale, and got one for $25. They also had smaller ones (about a third this size) for $20 – they'd be good for making comfrey tea or liquid manure. Getting it into the boot of my hatch-back was not easy – these things are about the size of a 44 gallon drum, and I already had two bales of hay in there.
Once home, I drilled a few holes in the drum to let air in and water out, then filled it with leaves, manure, grass clippings and garden prunings. I also chucked in a few handfuls of comfrey, a dash of blood and bone, and a shovel of fresh compost to seed the bacteria and micro-organisms. Every morning I roll it around the yard to mix up the contents, check it's not too dry inside, and then leave it to stand in the sun. If it works like a normal tumbling compost bin (and I see no reason it shouldn't!), I should have nice compost within a month or two.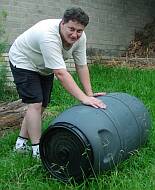 The nice thing about this compost bin is its portability. You just roll it to where you want to use the compost, screw the lid off, and empty it out. It's the same when filling it with weeds or prunings – it comes to the job with you.
The bin was filled on 9-12-2001. I'll post more photos as the compost breaks down, to give you an idea how quickly it works.
One thing to note – if you're going to use a drum like this to make compost, check what it's been used for first. This one was an old olive barrel, and had more recently been used to store horse feed. You definitely don't want to make compost in something that once held chemicals, oil or some other noxious substance.