There were four types of lettuce in the punnet -?La Roma Green, endive, radicchio and La Roma Red. The photos below are in that order (thanks to Luc Dedeene from http://www.plantaardig.com for helping me figure that out!).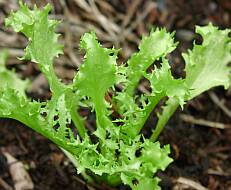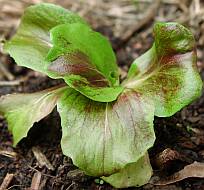 Lettuce 'Tuscan Salad Mix'. A mix of La Roma Red, La Roma Green, Radicchio and spidery endive for a perfect salad blend which may be picked leaf by leaf. Suitable for containers.
Lettuce prefer a well drained, friable soil and should be protected from snails.
Position: Sunny to lightly shaded.
Plant: 25-30cm apart.
Planting Time: All year round.
Maturity: 6-8 weeks.
Uses: Salads (radicchio can also be?barbequed).
6 Dec 2001: Maryanne bought this punnet of mixed lettuce seedlings, but then didn't have anywhere suitable to plant them out. After sitting on her garden bench for a few weeks, I planted them in our garden for her.